Accutrac 360-i
(Touch-free In-bay Automatic)
Double the Speed:
Dual Spray Arms apply chemicals and/or high pressure to all vehicle surfaces in a single pass. The Accutrac 360-i effectively cleans up to 29 cars per hour.
Double the Spray Impact:
Pump the same amount of water (at the same pressure) through half as many nozzles (that are twice as large) and you get twice the spray impact!
Patented Vertical Profiling System measures the height profile of the vehicle and adjusts the spray impact accordingly! This system maintains superior spray impact regardless of vehicle height. (No other wash system has this)
Double the Cleaning:
Oscillating spray nozzles cover every spot on the vehicle at least twice. This double coverage enhances high pressure cleaning (think bug removal) and spot free rinsing.
Large Droplet Technology: Our spray nozzles produce larger water droplets that carry more impact to the vehicle. Large droplets also boost the effectiveness of the presoaks by carrying more heat to the surface of the vehicle.
Half the Maintenance:
The Accutrac 360-i has…
No rotary swivels
No pneumatic tires
No belts or pulleys
*Standard 8ft. high vehicle clearance (An Industry First)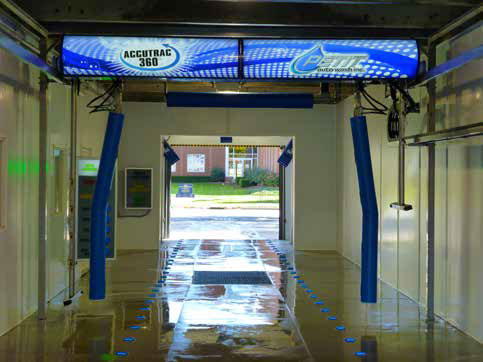 Benefits:
Wash up to 29 cars per hour
Standard 8ft. high vehicle clearance increases customer base
Cleans better due to increased impact, double coverage & vertical profiling
Reduced maintenance: no rotary swivels, no pneumatic tires, no belts or pulleys
Lower electric & water consumption due to Vertical Profiling and VFD controls
Features:
Vertical Profiling doubles the impact on hoods and windshields
Upper level side nozzles (T.V. Nozzles) turn on only when needed on tall vehicles
Full remote control from phone, tablet or PC
Built in traffic gate control for stacking up to 10 vehicles after the Auto-cashier
All stainless steel and corrosion proof components in the wash bay
Heated motors and electrical enclosures reduce condensation and extend component life
Sealed hypoid gearboxes are highly efficient and maintenance free
Replaceable polymer inserts in idler wheels and pivot points
8 Wash Packages with Triple foam, (2) low pressure chemical, (2)high pressure chemical, underbody and medium pressure passes
Technical data:
Minimum Wash Bay Size: 31'4" long x 14'7" wide x 10'11" high
Control Power: 19 Amps @ 208/230V 3-ph
25 Hp Pump Power: 65/60/30 Amps @ 208/230/460V 3-ph each. Two required for dual pump version